Archive for the 'Medical Tips' Category
Glossopharyngeal neuralgia is a rare syndrome that causes pain by compression of the glossopharyngeal nerve, ninth cranial nerve that is located inside the neck. The pain extends down the throat, tongue, tonsils and middle ear, although many times can cause back pain.
It can last for a few seconds to several minutes, the above happening multiple times throughout the day or even for weeks. Many individuals with Glossopharyngeal neuralgia pain associated with attacks specific factors such as swallowing, drinking cold liquids, sneezing, coughing, talking, throat clearing and touch the gums of the mouth.
Glossopharyngeal neuralgia is usually caused by compression of the glossopharyngeal nerve, but in some cases, no cause is evident. What seems established is that, as in trigeminal neuralgia is associated with multiple sclerosis, which should not be forgotten is that glossopharyngeal neuralgia primarily affects the elderly.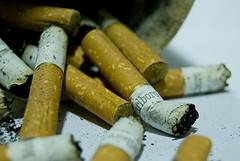 Smoking is responsible for millions of deaths that could be avoided. However, quitting is not easy, it requires will and determination to snuff leave forever.
How to get to make that decision is completely personal. Some are motivated thinking about wanting to avoid the consequences, while others are considering the benefits gained.
In any case, is to improve both your health and quality of life, like your environment. So if you're determined, you can choose one of these treatments to quit smoking:
Methods for quitting: Read the rest of this entry »
Causes diarrhea
Eating too much or eating the wrong foods
The main cause of diarrhea is to eat too much or eating the wrong foods, putrefaction of food in the gut, fermentation of carbohydrates caused by incomplete digestion, nervous irritability, the use of antibiotics and excessive consumption of laxatives.