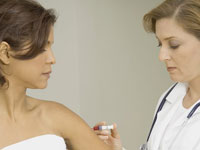 Is there a treatment for influenza?
Influenza is caused by a virus, for which no treatment exists, but there are drugs that make the disease more bearable, shorter and reduces symptoms, if administered during the first 48 hours of illness. The drugs are sensitive usage, only the doctor is able to determine whether to administer to a patient, as they are not free from side effects.
How can I prevent influenza?
A vaccine that has been referred to as the best way to prevent influenza, it is prepared every year taking into account the types of virus circulating in the world, is well tolerated but does not apply to people with allergies to egg protein, with a history severe reaction to the vaccine or had suffered from Guillain-Barré syndrome (six weeks before the vaccination).
"In whom it is applied antiinfluenza Vaccine?
Should be applied to the entire population before the winter season, but there are priority risk groups such as patients with diseases affecting the immune system, cardiovascular, metabolic and renal diseases. In those 65 years old with COPD, diabetes mellitus, cardiovascular disease and asthma. Pregnant women at high risk (adolescents, gestational diabetes, preeclampsia, eclampsia, pregnancy in multiparas).